The Meccanoman's Newsmag
Latest Issues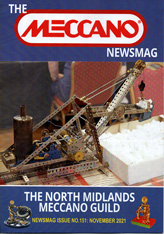 Supplied free to its members by the North Midlands Meccano Guild, the largest of the UK Meccano clubs, the latest issues of The Meccanoman's Newsmag are now available to non-members.
The Newsmag (AKA 'NMMG Newsletter', 'NMMG Newsmag', 'The Meccanoman's Newsmag' and 'The Meccano Newsmag'), one of the best-known of the internationally-read Meccano journals, has been in continuous publication since 1977, and is a great resource and archive of Meccano-related material and of the Meccano hobby itself.
In Newsmag No. 151 (November 2021, 40 pages A4, in colour):
Chairman's Corner (Richard Payn), Covid Musings Episode 2 (Jonathan Shapero), So you want to Build a Meccanograph Part 10 (Jonathan Shapero), Fireside Fun (Pat Briggs), A Meccanoman's Lament (Pat Briggs), Water, Water Everywhere (Matthew McCallum), The Time of Our Lives - Book Review (Jim Gamble), Diary Dates, Clubscene: Oxton Auction Report (Jim Gamble); What Shall I Be? (Jim Gamble), Oxton Model Report (Richard Payn), The Henley Gathering (Richard Payn), Stefan Tokarski's Models.
Ref: MN151 Price: £7.00 (postage extra; budget UK rate available).
Also available:
The Meccanoman's Newsmag Nos. 123-150
Ref: MN123, NM124, NM125, MN126, MN127, MN128, MN129 Price: £5.50 each
Ref: MN130, MN131, MN132, MN133, MN134 Price: £6.50 each
Ref: MN135, MN136, MN137, MN138, MN139, MN140, MN141, MN142, MN143, MN144, MN145, MN146, MN147, MN148 , MN149, MN150 Price: £7.00
The Meccanoman's Newsmag Nos. 1-100 (CD)