MW ModelPlans 121 - 130
---
Jeffrey Boswell's
Veteran Rolls Royce
£19.95
Yet another model from Jeffrey Boswell, based on the Rolls Royce cars that were built between 1905 and the introduction of the Silver Ghost. The model is designed to be primarily a working model that would sound quite realistic when running with its solenoid engine.
Instructions cover chassis assembly, front & rear axles, two stroke (solenoid) engine, gearbox, and body, illustrated with 27 coloured photographs. A comprehensive parts list is included.
---
ModelPlan 122
£24.00
Jeffrey Boswell's
BREAKDOWN/TOWER LORRY
The model is based loosely on the Karrier breakdown trucks that were used by London County Council to tow broken down trams. After the LCC tramway became part of London transport in 1933 a tower was added for the repair of trolleybus overhead. The appearance of the model is similar to the Karrier truck, but as no mechanical information was available the actual working of the truck is not based on any real vehicle.
The instructions are profusely illustrated with no less than 48 carefully positioned colour photographs. Sections deal with the assembly of the chassis, construction of the differential and rear axle, front axles and steering, engine, mounting the engine, radiator and dash board, gearbox and auxiliary gearbox, seat and cab floor, drivers cab and doors, cab roof and platform, remaining body details, and the breakdown crane. The 24 page booklet includes a comprehensive parts list.
---
ModelPlan 123
Ralph Rigg's
Large Floating Crane
£16.00
Ralph Rigg based this model on a floating crane which works in the dock system at Barrow-in-Furness. (This information was correct at the end of March 1999) This version was built without regard to any constraints on parts but a No.10 set at least is required. The crane makes quite a large model being approximately 5ft long,1½ ft wide and 6 ft high (1.5x.45x1.8 metres).
Instructions cover the hull; winding mechanism; lower deck; superstructure; control room; upper superstructure; jib and hooks, fully illustrated with colour photographs.
---
ModelPlan 124
John Ince's
Dresser 510B Pay® Loader
£9.00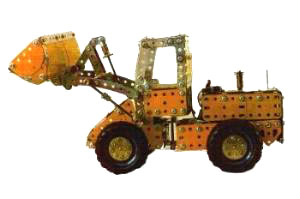 Another modestly sized model from John Ince, this model evolved from a desire to build something more realistic than the models described in the Action Control Set 9526. While the infra red control components offer a reasonably satisfactory method of remote controlling a Meccano model, the control components and battery boxes are far too prominent in the set models to satisfy a realist.
The model is built to a nominal scale of 17:1 the scale being determined by the size of the tyres. Because of the limitations of Meccano dimensions, the scale of the other parts of the model is 15:1.
Instructions cover the front section; upper part (cab); the rear section; the bucket; the bucket lift and tilt mechanism and the wheels. The Parts List shows both the 9526 parts and the additional parts required.
The leaflet is illustrated with eight colour photographs and a dimensioned drawing of the prototype.
---
ModelPlan 125
Tony James'
JCB 435 Articulated Loading Shovel
A Set 10+ Model
£14.60
Another JCB from Tony James, the 435 Articulated Loading Shovel was just one of a range of machines developed in the early 1970s. it had four wheel drive with articulated steering and the engine mounted in the rear half, with the cab and loader on the front. All the 400 series had the JCB 'hush flow' exhaust system fitted. The 435 had a 137.5 hp engine and an operating weight of 12.809 kg. A bucket of 2.75 or 3.0 cu. yds. was fitted.
The model can be built from a 1970-77 No.10 Set. The only extras required are the Motor, the large tyres and some parts for the wheel hubs. A scale of 1:8 is used, to match the other JCB ModelPlans available, making the model 36" long, 15½" high to the cab roof and 24" overall operating height.
The model has six simulated hydraulic actions for the steering, lifting and tipping. Comprehensive instructions cover the Front Frame, Front Axle Casing, Lower and Upper Steering Pivots, Rear Frame, Rear Axle Casing, Rear Axle Pivot, gearbox Framework, Tiers of Gears, Steering Gear, Gear Lever Linkage, Winch Gear Selectors, Lifting Arms, Supports and Rams, Paralleling Linkage, Tiping Rams, Bucket, Cab, Cab Steps, Seat, Mudguards, Front Cover, Rear End, Engine Cover and Motor Fitting.
Fifteen colour illustrations and fifteen drawings are included, plus Parts List.
---
ModelPlan 126
Tony Parmee's
JET AIRLINER
A 10 Set Model
£5.40
Designed and described by Tony Parmee, this fine model is yet another of Tony's new models for the Set 10. The model was much admired at Skegex 2000 and represents a typical current high capacity wide-bodied Jet Airliner, and has been closely modelled on the Boeing 777 brought into service in 1995, which is proving enormously popular with the world's airlines. Tony found it amazing that with the post WW2 explosion in air travel, the 1954 Set 10 Leaflets (whichwere current up until the recent withdrawal of the No.10 Outfit!) contained not a single aircraft (discounting the "promoted" No.9 Leaflet); yet the 1937 Manual had two impressive examples of contemporary aircraft!
Sections deal with the Stairs (parts not included in the No.10), Main Frame, Main Undercarriage, The Taxiing Mechanism, Steering, Remote Control, Fuselage Frame, Nose Wheel, Fuselage, Front Fuselage, Rear Fuselage, Lower Fuselage fairings, Window Bars, Wings, Jet Engine, Tail Fins, Rudder, Transport & Assembly, and Stand.
Illustrated by eleven black & white photographs and one diagram. A comprehensive Parts List is included.
---
ModelPlan 127
L.N.E.R. CLASS W1 4-6-4 LOCOMOTIVE & TENDER No.10000
£14.60
It was a tradition with Maurice Maurice's Series of Modern SuperModels (The predecessors of ModelPlans) that many featured modernised versions of the original series of Super Model Leaflets issued by Meccano Ltd in the late 1920's and early 1930's. One of the most famous models of this era did not feature as a leaflet as such, but was described and illustrated in the three successive issues of "Meccano Magazine" in 1935. Designed at a time just before the introduction of Strip and Flexible Plates, this fine model was constructed predominately from Strips. Ted Summerfield designed this modernised version to take full advantage of the aforementioned Strip & Flexible Plates, and also made the model capable of movement.
To obtain a high degree of realism a number of items were fabricated – (a) End Plates for the Cylinders from Aluminium Sheet, (b) Wheel Flanges from the same material. (c) Brass Segments for Wheel Cranks and (d) Narrow Single Cranks for the Valve Gear. Flexible Plates were cut to shape for the smoke deflectors and Chimney. Sections of the instructions deal with Side Frame, Frame Stretchers, Drag Beam, Front Bogie Mounting, Pony Truck Mounting, Rear Sub-Chassis, Outside Axle Box, Front Running Plate, Front Buffer Beam, Smokebox Saddle, Reversing Support Bracket, Detailing, Cylinders, Driving Wheels, Valve Gear etc., Bogie/trailing Wheels, Front Bogie, Rear Fixed Wheels, Trailing Pony Truck, Boiler, Boiler Backplate, Smokebox Fairing, Chimney, Cab, Handrails, and Steps. The Tender description includes Chassis, Side Plating, Front Plating, Rear Plating, Corridor Roof, Corridor Side, Water Tank Top, Coal Space Back, Coal Space Floor, Axle Boxes, Wheels, Buffers, and Detailing. Illustrated by no less that 26 beautiful coloured photographs, and 14 plating diagrams. A Comprehensive Parts List is included.
---
ModelPlan 128
Tony James'
COLES MOBILE CRANE
£11.80
Tony James has built his model to 1/8th scale, as closely as Meccano will allow. Although it is based on Meccano's well known Dinky Toy, Tony was fortunate to have access to a real Crane which is still in daily use despite being more than fifty years old. It is tiny by today's standards with a lift of only 20 feet and a maximum load of six tons. Its low height with the jib level is ideal for working in factories and confined spaces.
The model can be built from a 1970-77 number ten set (although ten extra 168d Ball Bearings would make the turntable assembly more robust.) A Meccano P.D.U. or Decaperm Motor powers all the movements. Four main levers in the cab control the lifting, derricking, slewing and drive to the road wheels. All have separate forward and reverse gears fitted. An extra lever enables the hook to be lowered quickly by gravity. The steering wheel turns the front wheels irrespective of where the cab is facing.
Fourteen pages of detailed instructions cover the Ball Bearing Turntable, Chassis, and Turntable Support; Rear Axle, Front Axle and Differential Assembly; Crane Framework and Main Frame; Gearbox, Luffing Drive, Hoisting Drive, Slewing Drive, Forwards & Reverse Drive, and Luffing Drive Control; Cab Floor & Steering Column; Slewing, Hoisting Drum and Clutch Controls; Motor; Cab Seat; Top Decking, Side Covers, Front Mudguards & Bumper, Rear Mudguards & Bumper; the Jib; Bodywork & Cab. A comprehensive parts list is included.
On the front and back inside and outside covers are no less than sixteen full colour photographs which include a full selection of constructional views of the model, plus a few of both the prototype and the Dinky Toy.
---
ModelPlan 129
Roger Little's
ROTATING BIG WHEEL
£9.60
Big Wheels of various types are always popular attractions in fairgrounds, and Roger Little's model, which makes a fine exhibit, received the runners up award for the model of the year competition at the North East London Meccano Club in 1999.
Fully comprehensive instructions include sections on the Model Base, various Access Steps, Roller Bearing, Rotating Base, Main Standards, Wheel & Cars, Assembly, and Drive Mechanisms. A parts list is included.
The model is illustrated by fifteen clear constructional colour photographs, and a parts list is included.
---
ModelPlan 130
Michael Adler's
SHORTT HIT & MISS SYNCHROMETER
£16.00
The best mechanical timekeeper known is a pendulum swinging freely under gravity, but in order to convert such a pendulum into a practical clock, the pendulum must be sustained in motion so that the oscillations do not die down, and the swings must be counted. In ordinary clocks, the sustaining and counting function are both carried out by the escapement and the clock mechanism, but the free motion of the pendulum is considerably interfered with thereby, with a consequential loss of accuracy in timekeeping. What is so special about the Shortt Free Pendulum Clock is that a free pendulum became a reality, and for a number of years, from about 1922 until it was superseded by the atomic clock, it served as the pre-eminent time-keeper, and was to be found in all the world's observatories.
To serve the master, Shortt enlisted the services of the Synchronome company, whose director was Frank Hope-Jones, whose clock was then utilised as the slave to the Shortt Clock.
When Michael Adler first saw the Shortt clock about 10 years ago, he was fascinated because of its amazing mechanism, free pendulum and excellent time keeping ability, and by the importance it had earned in the horological world. It contained no less than three wonderful electro-mechanical working sections, and he marvelled at the interplay between one part and the other. He wondered if it could be reproduced in Meccano. He found out about phase locked loops and synchronisation, and kept going back to examine the clock.
One day he settled down to see if he could build the gravity arm and heavier reset arm. He realised at the outset that he would have to have a fairly heavy pendulum weight, and that he would have to work out how much of an impulse it would need to keep it oscillating on its own for half a minute.
From there he worked backwards to the reset arm and the power that it would need to operate it.
When he had completed the Shortt clock and its slave (the Hope-Jones clock), the stage was set for interlinking the two. He had an overwhelming feeling when he got his clock to hit and miss for the first time.
The clock is a fascinating mechanism, which provided endless opportunity for Meccano construction, as well as an investigation of the theory of its operation.
The introduction to the ModelPlan consists of no less than nineteen pages of information on the prototype, illustrated by ten technical diagrams.
The fully comprehensive instructions cover another twenty-nine pages, with an illustrated section which includes some forty black & white photographs together with a further seventeen diagrams.
Also included are a Preface, Glossary of Terms, Parts List, List of Contents, List of Illustrations, Acknowledgements and References.
Also available on CD. Michael Adler's Clocks on CD.