ModelPlan 251
Alex Barker's
Foden Fuel Tanker Truck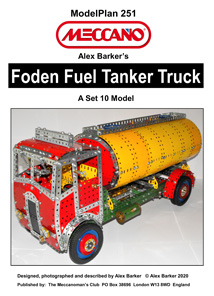 ◊ A Set 10 Model ◊
Familiar to Dinky Toy enthusiasts of days gone by, the Fodel Fuel Tanker makes a Set 10 model that is realistic and easy to construct.
Powered by a PDU motor, the model includes front-wheel steering, rear-wheel differential, leaf suspension, 2-speed and reverse gearbox with neutral position, working gear selector lever, clutch and brake pedals, plus hinged driver's door and hinged cab.
28 pages including text, colour and B&W photographs and parts list.
Ref: MP251 Price: £9.60