ModelPlan 249
Midlands Meccano Guild Model Series MMGMS7
Dragline
◊ A Set 10+ Model ◊
Redesigned and Described by Roger Marriott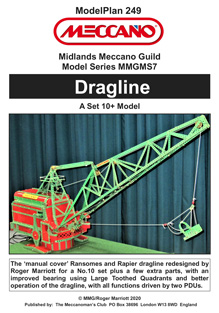 The well-known model of a Ransomes and Rapier W14 Walking Dragline on the covers of 1950's set manuals has been redesigned for building with a Set 10 plus a few extra parts.
Its five movements - walking, slewing, luffing, hoisting and dragging are controlled independently from one side of the model using two PDU motors via a simplified mechanism.
An improved main bearing, using Large Toothed Quadrants, provides smooth and realistic slewing.
28 pages including text, diagrams, colour photographs and parts list.
Ref: MP249 Price: £9.60