ModelPlan 228
Claudio Rabbi's
Italian Electric Locomotive E 424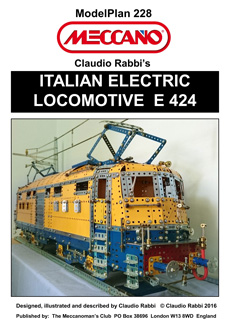 A detailed, 1:12 scale model of one of the most popular Italian Electric Locomotives in service between 1938 and 2007.
The model includes a section of track and is compatible with other 5½" gauge railway models.
The many realistic details include working trolleys, stairs, handrails, intakes, headlights, whistle, windscreen wipers, opening doors, interior cabin fittings and drive controls and buffers and tow hooks. The bogies, which are very unusual, match the real thing.
With text and 12 pages of colour photographs.
Ref: MP228 28 Pages Price: £9.60