ModelPlan 216
Alex Barker's
Car and Caravan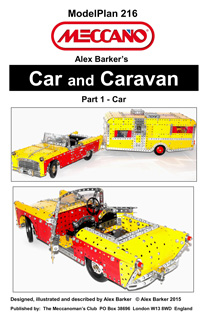 A finely-detailed and realistic model set of an open-top car and caravan of the 1950's, which uses the set model 10.29 as a starting point.
Radical enhancements to the car include rear seats, a 3-speed and reverse gearbox, rear differential, working clutch and brake pedals and drive by PDU motor.
The caravan is redesigned from scratch with folding stabilizer legs and a fully-fitted interior consisting of kitchenette, bed, seats, table and a partitioned-off lavatory with even with such details as curtains, taps, sink waste, cooker knobs and burners, bedside light and toilet roll holder.
The plan, in two volumes, includes text and over 150 photographs and original Special Model Leaflet No. 29.
Ref: MP216 84 Pages (total) Price: £15.90