ModelPlan 203
Tony Parmee's
Tower Bridge
A Set 10 Model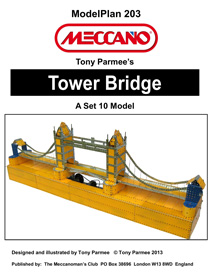 A development on Model 9.20 from the 1954 Set Manual, the most realistic of the factory-published models.
The enhanced version is mounted on a base containing an automatic raising and lowering mechanism (which can be viewed from under the bascules) producing a very good exhibition model which can be enhanced by the addition of Elektrikit lighting.
The mechanism provides a realistically long pause between each raising and lowering of the bascules. Should a bascule be disturbed by probing fingers, slip clutches render the model self-righting; when the bascules are down, they stay down; and when up, they stay up - just like the real Tower Bridge.
The model uses a mains induction motor, but other types of motor can be substituted.
The plan includes a reproduction in full of the original Model 9.20 from the set manual.
Ref:
MP203
Price
: £5.90