ModelPlan 162
Ralph Rigg's
1920's Steam Wagon
A Set 10 Model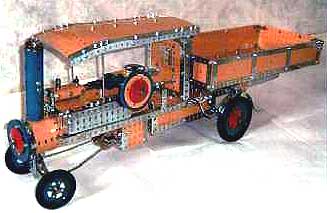 Steam wagons were introduced at the start of the 20th Century as a successor to the horse-drawn wagons of the time. At first they were slow and cumbersome but eventually they became fairly efficient. Makers such as Foden, Burrell, and Allchin made and exported wagons all over the world. However, during the 1930's they were superseded by the diesel wagon. One big drawback with steam was the need to heat up water before any work could be done. Even when this was achieved coal and water still had to be found to keep the beast moving.
This is a model driven by a concealed electric motor and is designed to be built with a 1990 number 10 set. It is based very loosely on photographs of Allchin steam wagons of around 1915 to 1922 in the author's possession.
Five pages of construction details include the:
Boiler

Chimney

Front Axle

Chassis

Side Tanks and Cylinder Assembly

cylinders

Rear Tank

Motor Unit

Gearbox and Flywheel Assembly

gearbox is designed to give two speeds to the wheels

Steering Mechanism

Rear Springs

Cab Back

Cab Roof

Wheels

Chain Guard

Tipping Body

Tipping Mechanism

Tipping Mechanism Operation

Parts required
Fully illustrated with thirteen large colour photographs.
Ref: MP162 Price: £9.00