John Ince's
Dresser 510B Pay® Loader
£9.00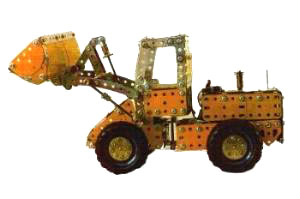 Another modestly-sized model from John Ince, this model evolved from a desire to build something more realistic than the models described in the Action Control Set 9526. While the infra red control components offer a reasonably satisfactory method of remote controlling a Meccano model, the control components and battery boxes are far too prominent in the set models to satisfy a realist.
The model is built to a nominal scale of 17:1 the scale being determined by the size of the tyres. Because of the limitations of Meccano dimensions, the scale of the other parts of the model is 15:1.
Instructions cover the front section; upper part (cab); the rear section; the bucket; the bucket lift and tilt mechanism and the wheels. The Parts List shows both the 9526 parts and the additional parts required.
The leaflet is illustrated with eight colour photographs and a dimensioned drawing of the prototype.