SHOWMAN'S ENGINE
by Tony Brown - £12.00
• A 10 Set Model •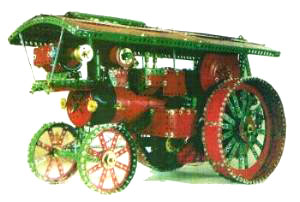 It is now 100 years since Burrell's supplied the first DCC engine specifically equipped for use by Showmen. This was the first of many engines which eventually culminated in the Special Scenic Engines produced during the 1920's.
Tony Brown, who produced this ModelPlan, feels it appropriate to commemorate this anniversary by using the 100th ModelPlan to describe his model of a Showman's Engine, accurate within the limits of a Set 10.
The model has been built primarily from scale drawings of the originals - including some of Burrell's own works drawings - and checked against period photographs and some of the surviving prototypes. The resulting model is approx 1/12th scale and stands 14" high by 26" long by 12" wide (350 x 650 x 300mm) and is largely accurate to within 1/2" (13mm). Obviously working with a limited range of parts means that a few sections of the model are not as accurate as they could be and suggestions are included on how those areas could be improved if more parts are available.
Features of the model include:-
2 Dynamos

Crane Tower and Pole Crane driven from winding drum

Working brakes on rear wheels

Extension Chimney

'Car' from 'Scenic Ride' (requires extra nuts & bolts)